With stability as a key factor in surviving this period of uncertainty, the world responds by adapting to the 'new normal' and by large, the new office setting is at the forefront of the shifting paradigm in today's working condition.
To get an insight into how COVID-19 forced the Filipino workforce to prepare & adjust, forcing a massive shift on how businesses adapt to this given crisis; we interviewed experts from 2 different industries that were heavily affected by the current situation — Director for Operations, for a well-renowned BPO in the Philippines, Miss Eliza Repato and Design Expert for Office Spaces, Mr. Jong Diaz
At the vanguard of these occupational struggles are the BPO and the Office Design Industries
With social distancing as one of the precautionary measures to halt the spread of the Coronavirus, it's but a small feat for BPO companies.
With all its privacy rules and regulations the option to let its employees work-from-home in this scale and magnitude was something Eliza did not even dream can happen with all her years working for the industry.
According to her, planning, organizing, and devising an action plan to circumvent the worst-case scenarios have to be done with utmost urgency. Additionally, new regulations need to be put in place and strictly implemented to ensure fluidity even whilst working remotely.
Whilst the BPO Industry goes the extra mile to straighten out a few detractors brought upon by the pandemic, the Work-Office Design Industry has to update and recondition their work process to incorporate a new set of guidelines that was mandated for the ECQ and GCQ period.
In an interview with a professional office design expert, Jong Diaz, Jong states that with the reduction in numbers of allowed employees for proper observance and implementation of social distancing, most companies allowed their employees to work remotely to be able to comply with these guidelines.
"Construction projects were put on hold and the movement of products, as well as office staff, has definitely been restricted", he added.
A litmus test for the 'new normal' workspace setting
Since change is truly inevitable given the current conditions where people's lives are at stake, adapting to a new type of work standard entails a plethora of certain adjustments and familiarizations.
'Working remotely' or the work-from-home option was one of the most prominent solutions for some companies to run BAU or 'Business as Usual'.
Initially implemented to adhere to quarantine regulations which main focus is to curb and suppress widespread transmission of the Coronavirus, the work-from-home initiative has made a momentous contribution against our battle with this pandemic and has proven beneficial especially to those who are at a 'higher-risk' of contracting the virus.
While remarkable in terms of its benefits, working-from-home also has its fair share of unpleasant snags and disadvantages.
'Although it works at some capacity, a significant setback of working-from-home were substandard or unsatisfactory work quality/output due to factors such as employee engagement, internet connections, unfavorable home working environment, and some other check and balance procedures that are not promptly addressed given the situation' (E. Repato, personal communication, June 7, 2020).  
Essentially exclusive to benefit only a certain niche in the workforce and inherently restrictive with its incapacity to favor all natures of work and profession, working-from-home is more of a 'quick fix' rather than a sustainable solution to the problem regarding work efficiency and work optimization at a time of social distancing and workplace separation.
'Employees well-being' is the 'new normal' in office design
When asked what are some of the major changes people should expect in office designs moving forward, J. Diaz responded that from the past trend — using every available office space before the pandemic — safety, health, and well-being of employees are taking the forefront in office design concepts.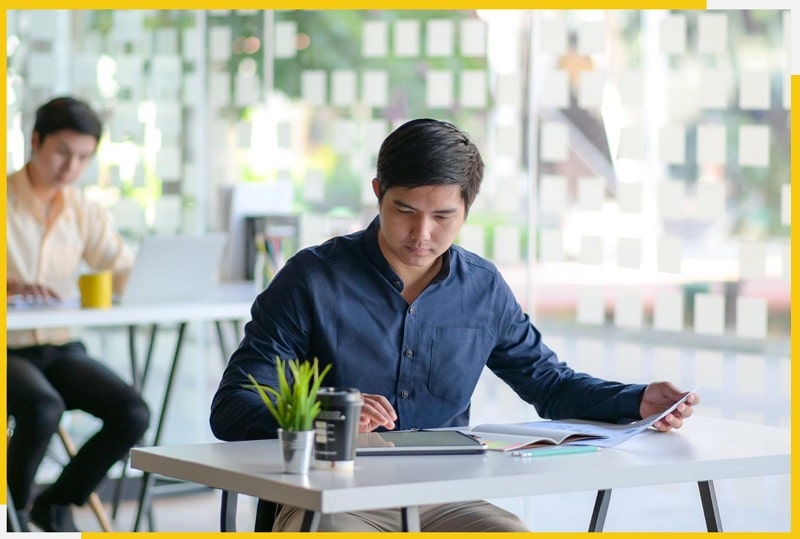 Office density will also change, and although it isn't mandated by law, there will be less contact among workers while working and moving around the office. 'Past trends in office designs will take a backseat, whilst cubicles and desk partitions shall be making a comeback.
The integration of technology into conceptualizing office designs will be a game-changer, as it allows the use of available office spaces to allow the connectivity of companies to their employees, partners, and clients', he added.
The 'new normal', a step backward from how the world is moving forward and upgrading to an operating system that's patched with inclusivity; a world that's all-embracing of everyone's differences; a world that's powered with just a simple touch.
Granted that the update was momentarily paused due to a 'virus', it's with a glimmer of hope that our society is formulating a new way to thrive amidst these trying times.
The new office setting, regardless of its outdated design, is a clear testament of mankind's resilience and ability to bounce back from any predicament, easily adapting to any situation, proving again and again that we are the salt of this Earth, and we're here to live, not just to survive.